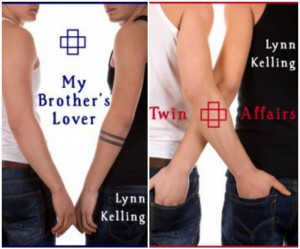 "To say I was fascinated with this story is an understatement. Going into this I wasn't expecting to find such multi layered characters. I'm embarrassed to say I expected a lot of sex and not much else when I received these two books to review. Now, the sex was hot, a little kinky and very well written, but so much more. I give kudos to Ms. Kelling for giving us such a wonderful story with unforgettable characters and proving me wrong." – Lynn, The Novel Approach
4 Stars from The Novel Approach!
5 Hearts from MM Good Book Reviews!
Today, the folks over at The Novel Approach were kind enough to invite me to make a guest appearance on their blog. I talked about my inspiration for this series, stemming from Greek mythology, in order to explore the idea of soulmates and the search for one's missing half. Check out the post here, and leave a comment for a chance to win BOTH books!
Many thanks to the folks at The Novel Approach and MM Good Book Reviews for their time.