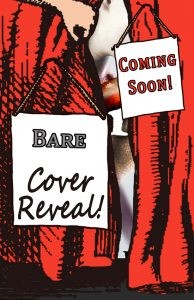 This upcoming Thursday, September 29th (also my birthday! Woohoo!) will be the official cover reveal day for my next release, bare! Stay posted here for links, or check out ForbiddenFiction.com, or stop by one of these AWESOME blogs (and huge thanks to them for participating): Sinfully Gay Romance Book Reviews, The Blogger Girls, & MM Book Escape.
I'm also thrilled to announce the release day for bare – November 15th, 2016! It'll be here before you know it. I'll be doing a blog tour for the release, which will last from Sunday, November 13 – Friday, November 18. As part of the tour, I'll be doing an Author Chat on November 17.
I've been dealing both with health issues and a crap-ton of life events piled on top of one another lately, so I'm doing my best to stay on top of everything (though I am running ever so slightly behind). Bare is a whole lot of fun, so I'm really excited to share it with all of you.