I have cool news to share, but first I'd like to do some real talk about my personal life. The older I get, the more I realize how seldom we talk about the things that really matter. I'm going to try to change that because I truly believe the more we share of ourselves, the more it brings us all closer together, and the world needs a lot more of that right now.
I was raised to devalue myself and to put "taking care of myself" dead last on the ol' cosmic priority list. In my toxic family, these were the only things I was allowed to care about:
Other people's needs
Responsibilities
Obsessing over other people's expectations
I've since consciously reorganized my priority list to:
Myself
Loved ones & friends
Responsibilities
But the thing is, I spent 37 years living by that first list, and it's had some undeniable effects on my health and happiness. When you spend so long setting yourself on fire to keep other people warm, you wind up with a lot of burn scars (that never should have been there). Mine have been catching up with me, so I've been taking lots of extra time to just RELAX and enjoy life. I meditate every day now. I'm giving acupuncture a try (with hubby! My needle-phobic daughter is horrified). I pay attention to signals my body gives me. I don't waste any more time on the past or the future, because right now is all that really matters. I spend more time talking to the people I love, listening to what they have to say, and doing things I enjoy. If you relate at ALL to any of this, I wholeheartedly encourage you to re-prioritize your own list, STAT.
You can't make other people happy if they're choosing misery. There are a lot of people in this world who let fear and ego fuel them, and we can't save them from that without their cooperation. But you can choose to do whatever is in your power to make yourself happier. Because happiness is a choice. You usually have to let a lot of shit go before you find it, but it's there, waiting. It's not something you discover out in the wide world. You will never find it out there. It's inside of you. I promise. It's easy to forget how beautiful this world and the people in it can be, and how lucky we are to have the chance to be here, right now, together, and try to make a difference and lift each other up. I'm making the time to remind myself of that.
Anyway, this all means I've spent less time writing, and a lot less time on social media. I *have* been editing like a maniac, working on two books at the same time (Life From Nothing and Hush are both coming your way soon), and I have hope to get back to writing soon (Twin Ties #4, baby! Word count's almost at 60k!)
COOL NEWS: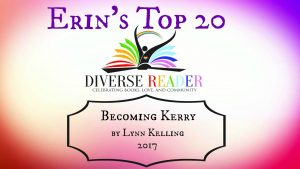 Becoming Kerry has just been named as one of Erin's Top 20 of 2017 over at Diverse Reader! This book maybe more than any other I've written contains real pieces of my heart and soul, so I can't overstate how rewarding it is to have others see value in it. I'm really grateful for the honor and motivation.
Becoming Kerry Story Page & Buy Link >>
The latest (working) blurbs for Life From Nothing & Hush:
HUSH:
Rune Tooby is a smartass rebel and closeted member of motorcycle gang, The Born Soldiers, who enjoyed casual sex and less-than-legal employment before a pickup truck filled with homophobic white supremacists intentionally rammed into his bike, destroying his hearing and shattering his life. Learning to move forward as someone who is deaf and doesn't speak presents challenges that quickly overwhelm Rune's ability to cope, sending him to humbly ask for help from the only place left in which he trusts completely—the rich and powerful Dominants of Manse who once trained him in the arts of BDSM. While Rune desperately searches for simple human connection and kindness, cocky day trader and Dom Oliver Hughes lives a life of indulgent luxury that has left him feeling adrift, unneeded, and without purpose, mostly because his beloved submissive, Jackson Whitney, is happily married with kids, a demanding career as a cardiologist, and little time or attention for his Master. When a meeting between Rune and Oliver is carefully arranged by the men of Manse, it's just the beginning of the wild ride that carries away everyone who gets too close to the explosive pair, leading them on a path filled with constant communication challenges, rage-filled vengeance, painfully unearthed secrets, Rune's total willingness to put himself in harm's way to aid those in need, and Oliver's horror at having to endure Rune's quest, or face losing him forever. (MMM)
Life From Nothing:
Driven from home by the terror of living with abusive parents, eighteen-year-old Eris Traylor finally has a taste of freedom. Used to being judged for his piercings, small stature, ethnicity, sexuality, and state of near-constant desperation, his expectations are set low. After being homeless for two years, Eris winds up in a juvenile detention facility, but upon his release is welcomed into a spot at Rolling Hills Farm—a refuge for neglected or homeless LGBTQ youth and young adults. Certain his parents will track him down yet again, Eris fears his time at his new home will be cut all-too-short and necessitate yet another mad dash for his life. While getting his first taste of what it's like to live a somewhat-normal life amongst other gay young men, Eris focuses on using his street smarts and well-honed instincts to seduce thirty-nine-year-old, tall, dark and handsome stable master, Jude Southwood, and secure his protection. But though Eris is certain his survival depends on luring in someone strong like Jude, suspicious, secretive, and seemingly-straight-laced housemate Quinn Cannon has no doubt Eris will bring only danger and chaos to the fragile peace of their home. (MMM)
Thanks to my readers for your support and kindness, this past year and always. I'm sending each one of you all of the hugs, love, and good vibes you can handle. I'm really looking forward to what 2018 has in store!