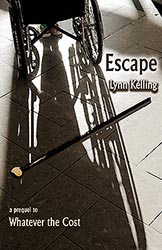 Escape has been released!* It's a prequel to Whatever the Cost, but it also includes some glimpses into Liam and Jacen's life in the present day, after Whatever the Cost takes place. CLICK HERE TO BUY, read an excerpt, check out content labels and more! This short story is available ONLY through Forbidden Fiction.
Blurb: Marriage, new names and a fresh start have helped Liam and Jacen Timothy leave their old lives behind. Now safer and deeply in love, Liam persuades Jacen to share part of his past he never has been able to before. Many years earlier and while home on break from college, Jacen, formerly Travis Saxon, was in a car accident which broke both of his legs. Travis thought he had finally escaped the man who preyed upon him since he was a young boy. Recovering at his family's farm from his injuries, caring for Dennis, his seriously injured younger brother, Travis is unable to run when his predator, a neighbor named Brian Andrews, comes and seeks him out. Blackmail and threats move Travis to cooperate, for the sake of helpless, beloved Dennis. As Travis is consumed by a truly terrible, horribly familiar nightmare, it's his instincts and knack for survival against all odds that reveals to him, at long last, the way out. (M/M)
*Please read the content labels for Escape before reading as there is content that may be some disturbing to some readers. Thanks!
ALSO AVAILABLE: Between Here and There and Trick and Truth, additional prequels to Whatever the Cost, telling the love story between Avery and Timothy, are now available.
COMING NEXT TUESDAY: My new novel, Bound by Lies will be released next week, on August 6. It will be available through Amazon, B&N, Smashwords, AllRomanceEbooks and more.