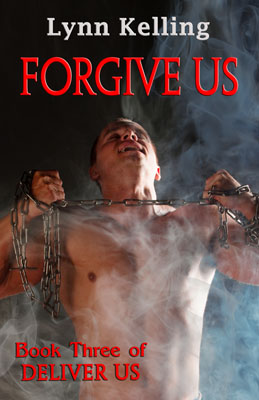 I'm thrilled to be able to share with you the cover art for book 3 in the Deliver Us series, titled Forgive Us. This book is tentatively scheduled for release this winter. It picks up where From Temptation left off, continuing the stories of Gabriel, Darrek, Ben, and Kyle and exploring the triad of Trace, Micah and Lilianna. Three characters from the novel Don't… by Jack L. Pyke  – Jack, Jan and Gray – also feature prominently.
An audio excerpt from this novel of a steamy BDSM encounter between Ben and Kyle will be released in December as part of the BDSM Bedtime Stories in Goodreads' BDSM Group.
SUMMARY: Though Micah loves his wife, Lilianna, it is his Master and lover, Trace, who Micah is secretly committed to. Trace is there to pull Micah up when times get tough, but there is too much about Trace's history that is yet unknown. As haunting events of the past complicate the lives of Micah, Lilianna and Trace as well as their friends Gabriel, Darrek, Kyle and Ben, secret schemes are brought to light. Trace's carefully hidden truths shake up the lives of everyone in their tangled, tight-knit family as three new allies from London and the Master's Circle arrive. While they all come to terms with shocking new realities, burning passion and decadent distraction ignite the spark of hope that old wounds can heal, forgiveness might still be had, and that the future is full of tempting possibilities.
Learn more about the Shared World Project >>
The Official Timeline for the Shared World Project >>