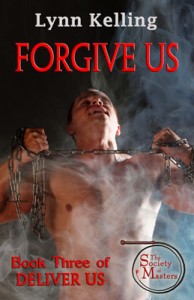 Forgive Us will be released on May 6, 2014! Jack L. Pyke's novel, Antidote, will be released the following week on May 13, 2014.
We're working on getting some interviews and giveaways lined up in celebration of the double release of these novels, so stay posted for more announcements and links.
Forgive Us Story Blurb:
To everyone else, Trace is an enigmatic and carefully controlled Dominant. He runs Diadem, a private BDSM club, is a Master and mentor to his fellow Doms and their lovers—Gabriel, Darrek, Ben, and Kyle—while trying to be Master and lover for Micah. Trace is the one to step in when anything or anyone threatens his closest friends, yet he realizes he is in over his head when haunting events of the past endanger everyone's lives. Trace is forced to call on old connections for help from the world he tried to leave behind—the Master's Circle in England. Tensions rise to a fever pitch as Trace's hidden truths shake up the lives of everyone in his tangled, tight-knit family.
For over a decade, Trace, the founder of private BDSM club Diadem, has been living under an assumed name with hardly any ties to his past as a prostitute and Master's Sub with the Master's Circle. It's a mix of chemistry, burning passion and decadent distractions which ignite the spark of hope that old wounds can heal, forgiveness might still be had, and that the future is full of tempting possibilities. (M/M+)