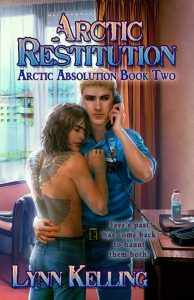 *~ 5 STARS FOR ARCTIC RESTITUTION~*
The very 1st Pre-Release Review for Arctic Restitution has been posted by On Top Down Under Book Reviews & it's full of delicious graphics & thoughts on all aspects of the book. Take a look!
"Arctic Restitution is compelling, dark, angsty, sexy, romantic, hopeful, and it brought my guys, yes, they're mine, closure. I feel like if there isn't another word written on Jaye and Dixon as primary characters that's okay. I'm at peace with their amazing growth and where they're at. I can't – daren't – ask for anything more. Crank up some angst-driven Halsey and/or Ali Barter while you read this book. Arctic Restitution is heart pounding and emotional reading."
Many thanks to On Top Down Under Reviews for the awesome feedback!
The blog tour kicks off soon – May 22–26. The book is released May 23.