Oh, do I have news to share! Strap in, kids, because here we go…

Next week, the Bring the Love Blog Tour kicks off to celebrate the release of the MM Anthology from Forbidden Fiction. My story Between Here and There is included with some amazing stories from other authors. The anthology is release June 27th! If you pre-order right now from FFP, you'll get 10% OFF!
On Thursday June 29, my part of the tour will be posted here, with some insight on creating Between Here and There, so please check it out.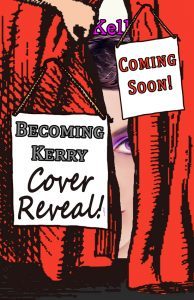 On July 7th, we'll have the cover reveal for Becoming Kerry! I'm so excited to share this artwork. It's really gorgeous and totally captures the beauty, drama and unique spirit of the main character. I'll link the reveal post from here as soon as I can.
In the meantime, Becoming Kerry is off to Production and I've started to schedule slots on the Becoming Kerry Blog Tour, August 6–11. If there's anything in particular you're curious about, send me a message and I'll do my best to include it in the tour!
I'm also sorting requests for ARCs, so please let me know if your blog is interested in reviewing this novel.
Arctic Restitution just got an amazing *5 STAR REVIEW* from Hearts on Fire Reviews!
"I absolutely loved that logic and reason won over stupidity – thank you for that! …I loved the growth that I saw in both men throughout this book. I loved their sexy time together. I loved the wonderful family and community that stood with them. I loved this entire series!" – Wendy, Hearts on Fire Reviews
Huge thanks to them and Wendy for the feedback on the book!
Now for some real talk… My family has been dealing with stalking issues lately (abusive extended family members and their swarms of enablers), which has led me to stop sharing personal details on my personal Facebook account and just generally keeping things closer to the vest. My kids just want to be left alone by these people and have had some anxiety about all of it, which is really hard to deal with as a parent, mostly because it becomes so difficult to just enjoy normal life events when creeps keep dropping by to try and make it all about them. Luckily, we've been laughing it off as much as possible and have been working with officials and the law to protect ourselves. In the meantime, we're really looking forward to getting some beach vacation time, enjoy the sand, sun and hot tub, and do some serious board game playing.
I'm doing my best to stay on top of everything, but please bear with me in the next weeks when it comes to responding to messages. There's a lot going on!
For the curious, I've recently submitted my MMM BDSM Romantic Drama, Life From Nothing, to Forbidden Fiction and have my fingers crossed that they'll like it enjoy to give me a publishing contract for it. My current work in progress on the writing front is a prequel to Bare featuring Rune, Oliver and Jackson as the main characters. It's been incredible to face the challenge of a deaf lead whose friends and partners are collectively not the greatest with sign language, but Rune has been rising above it all with an incredible sense of humor, raw and ferocious sexuality, fearlessness, and a calm but unwavering need for vengeance against the Neo-Nazis who hurt him and other vulnerable people in his community. I've got over 50,000 words written so far!
Wishing everyone a happy summer and really looking forward to sharing some good stuff with you very soon.