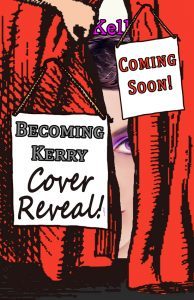 Today the cover of Becoming Kerry was revealed at Sinfully Gay Romance Book Reviews! I love how the artwork captures the different stages or facets of Kerry's growth throughout the book, showing in dramatic fashion some of the transformation underway as Kerry embraces his identity as genderqueer.
Please stop by to check it out and pre-order a copy!
The blog tour for Becoming Kerry is scheduled for August 6–11, and I've already got an interview with Kerry ready to go, as well as a dual interview with Ewyn and his mom, Erin. There will be even more lined up, including a deleted scene, so stay posted!
The Becoming Kerry story page with blurb, content labels & more >