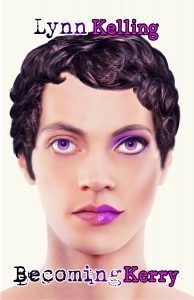 The Becoming Kerry tour wrapped up on Friday with 2 posts—an exclusive DELETED SCENE from the book over at Kimmers' Erotic Book Banter, and a CHARACTER INTERVIEW with Ewyn and his mum, Erin at Wicked Reads.
Here are some awesome review that rolled in at the week's end as well:
~* 5 STARS from Diverse Reader *~
"by the end I was in absolute awe of Kelling's beautiful story of becoming who you were always meant to be. She has a way of writing characters who are larger than life but so real you can't help but become completely engrossed in their stories.

Becoming Kerry is a truly stunning book that is at times brutally painful and then is sweepingly romantic and happy… Do yourself a favor and be sure to pick up this book. It's inspiring, emotional, and will leave you with such a strong sense of peace and happiness."
~* 5 HEARTS from Trio at Kimmers' Erotic Book Banter *~
"Lynn Kelling always presents such beautifully complicated, muti-layered characters…
I really appreciate the message Kelling sends in about duality, the image we present to society and what we are willing to do to make ourselves happy. In the journey of finding ourselves, and deciding to be honest to our true nature, what are we willing to give up?
Kelling has created a thought provoking, powerful story that will stay with me for some time."
~* 5 STARS from Shannan at Wicked Reads *~
"Becoming Kerry is an angst filled, emotional ride. I absolutely loved this book."
~* 5 STARS from Ruthie at Wicked Reads *~
"What an absolutely fabulous book. I devoured it from start to finish – and definitely plan on reading it again soon."
Thanks so much to all of the blogs for hosting me this week and for the readers who came along for the ride! It was a lot of fun and it really energized me to get back to writing my current WIPs. I've already written about 4k words in just the past two days on my prequel spinoff novel to Bare with Rune, Oliver & Jackson! I'm at almost 59k words and nearing the end fast! My next release will be Life From Nothing, a stand-alone novel with a MMM love triangle. So excited to share it with you!