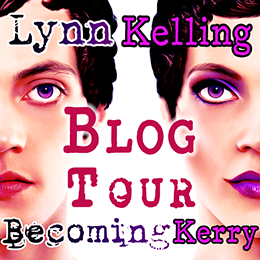 Wow, Day 2 of the Becoming Kerry tour has been amazing! I'm chatting with Kerry in an interview over at Sinfully Gay Romance Book Reviews, to catch up about Kerry's life following the conclusion of the book (but I promise it's spoiler-free! Just some fun tidbits to tease everything still to come…)
I also just saw that Becoming Kerry is #85 in the top 100 Bestsellers on the Amazon Transgender Romance list and that's so freaking cool!! I'm so, so excited to share the book with my readers tomorrow and am counting down the minutes.
There was also an incredible review of the book posted over at Bending the Bookshelf…
"Becoming Kerry is a book so wonderful, it is actually overwhelming in the depth of its intensity… Kerry spoke to my heart, reflecting so much of my own struggle, while Ewyn . . . well, he is precisely my idea of a knight-in-shining armor, the kind of true love that only comes around once in a lifetime. I cannot recommend this enough."
Please go read the full thing at this link. My tremendous thanks to Sally for the kind feedback!
The full tour lineup can be found here. See what's coming up this week (another double-character interview, an exclusive excerpt, a deleted scene, and some super-personal insight into what went into making this book). Join me THIS THURSDAY EVENING at 8-10 pm EST for the Online Release Party and Author Chat which will be held at this link. Bring all of your questions or just hang out and read some excerpts from this book *and* possibly another one currently in the works…
Becoming Kerry is released TOMORROW! Pre-order now, learn more about the book, or add it on Goodreads…