BUY NOW AT FFP, AMAZON, SMASHWORDS, Barnes & Noble, or ARe
Blurb: Dixon Rowe is a good man and a good cop who keeps finding himself in bed with the enemy. After he picks up a young ex-con named Jaye Larson for stealing food, Dixon is seduced by the possibility of helping someone truly in need. He tells himself he's assisting young Jaye out of the goodness of his heart–not because of how sexy Jaye is under all of the tattoos and defiance. But temptation entangles them as the malicious ghosts of Jaye's past returns to haunt their every step. Jaye's ghosts are bad enough, but the demon from Dixon's past is real enough to put both of their lives in danger.
M/M Contemporary Romance
Word Count: 85,000
PREQUEL TO ARCTIC ABSOLUTION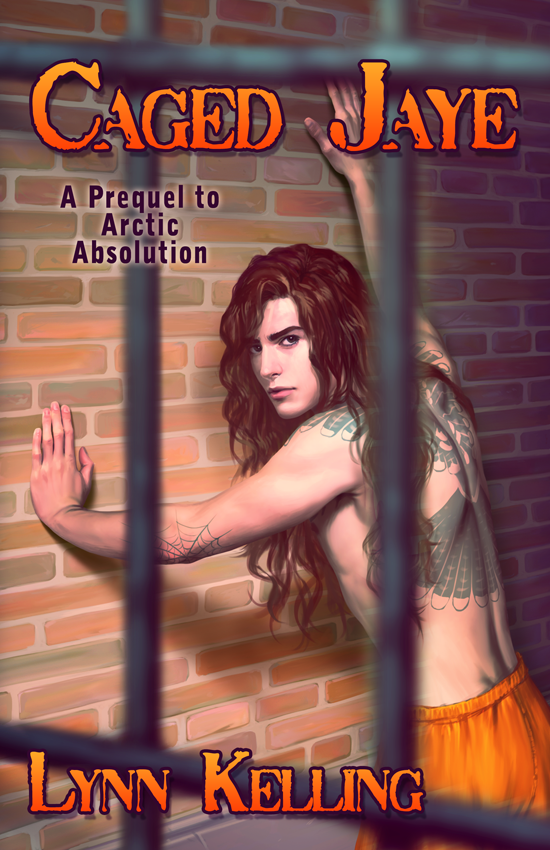 Caged Jaye – MM+ Drama – It's Jaye Larson's nineteenth birthday, and all he wants is to spend time with his boyfriend and his mother—the people he loves most and who make life worth living. But, faced by his mother's demons, the imperfections of his relationship with boyfriend, Kris, and dangerous, homophobic strangers, one by one, all of Jaye's dreams are soon derailed. Plunging into a waking nightmare, shortly after going to bed alone, he wakes in an alley, pinned down by two men with slow, bloody rape and murder in mind. It's just the start of Jaye's fight for his life, and his sanity, as time and time again, he's forced to make impossible choices and survive, no matter what it costs.
Release Date: April 12, 2016
Story page with buy links, content labels & more
REVIEWS FOR ARCTIC ABSOLUTION
5+ Stars from Gay Book Reviews
☆☆☆☆☆
"If you like hurt/healing/comfort and a shit load of angst, seeing justice prevail, excellent characterization and a unique story line plus an orgasm inducing HEA, GET ON THIS BOOK! HIGHLY RECOMMENDED!! It's crazy good folks. CRAZY good." – Gigi, Gay Book Reviews
~*~
4.5 Stars from Sinfully Sexy Book Reviews
☆☆☆☆☆
"Lynn Kelling is my kind of author and I love her writing, in this book she made me think and analyse my own feelings and emotions. Her characterization in Dixon and Jaye is excellent and drew me in from the first page, and to be honest… I couldn't put this book down! She writes raw, gritty kink which very often takes you to the dark side which can be hard to read, and certainly will not be to everyone's taste but for me, the depraved soul that I am, a lover of books that make me feel and evoke emotion… this is perfect." – Monique, Sinfully Sexy Book Reviews
Guest Post – A Word From Lynn Kelling: Judging by Appearances
~*~
5 Stars from On Top Down Under Book Reviews
☆☆☆☆☆
"….It is a romance but it's a romance frosted in a twisted and gritty icing. The sex is often incendiary, sometimes it's gut-wrenching, often edged in kink with some dark and rather… interesting role play….This book is a wonderful mix of the psychological and deeply erotic. Sometimes off-beat and boundary pushing, it makes for one hell of a ride." – Kazza K, On Top Down Under Book Reviews
Arctic Absolution has been announced as Kazza K's BOOK OF THE YEAR!
~*~
5 Stars from The Novel Approach
☆☆☆☆☆
"I loved how the author approached this story. We have two men, one who appears weak and helpless, and another who, while on the outside is strong and robust, is actually the weaker of the two. Seeing them help and understand one another was at times very sweet. And even though the nightmares, past and present, continued, they weren't as scary anymore, they had each other now. Watching Dixon and Jaye discover each other was beautiful, but the darkness was always there and lying in wait to rear its ugly face….Overall, I absolutely, without a doubt loved this book." Lynn, The Novel Approach
~*~
5 Stars from Prism Book Alliance
☆☆☆☆☆
"This is old Lynn Kelling with a hit of something very new, something that will make you cry at the helplessness of the situation but will buoy you up with a contrasting love story that is so very hard to obtain." – Caroline, Prism Book Alliance
~*~
5 Stars from The Blogger Girls
☆☆☆☆☆
"This is one fabulous intense read from beginning almost to the end. There are some tender moments here and there, and while there were a lot of heavy issues going on, there were sweet and happy times as well. These guys each struggle with their own issues, but together, they help each other get past them." – Jen, The Blogger Girls
Honorary Blogger Lynn Kelling: Hearing Voices
~*~
5 Stars from MM Good Book Reviews
☆☆☆☆☆
"Arctic Absolution, as with all of her novels, has characters that you quickly form an attachment with. She allows both of her MC's to have a voice, giving you, the reader, an inside connection to both. The frozen landscape of Alaska will set the scene and become a place that Dixon and Jaye will begin to heal and set their roots." – Kathy, MM Good Book Reviews
~*~
5 Stars from Bike Book Reviews
☆☆☆☆☆
"The journey these two remarkable men take to true love will make you cry, laugh, and get mad at the world, but it will not once make you regret reading this book!" – Bec, Bike Book Reviews
~*~
4.5 Stars from My Fiction Nook
☆☆☆☆☆
"It's emotionally shattering but brilliant, frustrating but redemptive. It made me cry, and it made me think….I believed in their love because it didn't come easily." Dani, My Fiction Nook
Huge, heartfelt thanks to all of the reviewers for their time, work, and feedback.