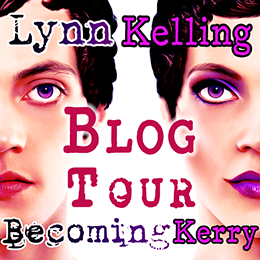 Holy cow, my book of endless edits has finally been released! I really am so happy to set this beauty free to venture out into the world. I tried my best to do right by Kerry and Ewyn, but Kerry in particular. It wasn't easy but it was definitely worth all of the hard work. I really hope my readers enjoy it as much as I have.
On Day 3 of the Blog Tour, I'm at On Top Down Under Book Reviews with the post Loss—Mine, Theirs and Ours. It's got some super-personal insight into how the phenomena of loss effected me during the editing of this book, and why, and how it changed my outlook on what it needed to be. I hope you'll give it a read.
~* 4.5 Stars from Joyfully Jay Reviews *~
"This book stayed with me after I finished it as my mind would go back and trace how Kelling pulled all of the complicated parts together to create the story of Kerry. This is a unique and well written story of living outside the carefully constructed lines that people want to put you in.It's recommend for fans of Kelling and for anyone seeking a character finally being able to live their truth."
The full tour lineup can be found here. See what's coming up this week (another double-character interview, an exclusive excerpt, a deleted scene, and some super-personal insight into what went into making this book).
Join me THIS THURSDAY EVENING at 8-10 pm EST for the Online Release Party and Author Chat which will be held at this link. Bring all of your questions or just hang out and read some excerpts from this book *and* possibly another one currently in the works…
Becoming Kerry is NOW AVAILABLE! Buy now, learn more about the book, or add it on Goodreads…