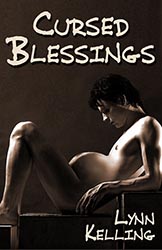 A Cursed Blessing (M/M, Mpreg)
Lev Baxter's life has been spent searching for the truth of world's dark mysteries, and hiding from his own secrets. Burdened by love and lust for his married best friend, Shaw Montgomery, Lev escapes into the arms of countless, unnamed women in foreign lands, far from his true temptation. But Shaw seeks him out and Lev succumbs. The price he pays lies in a terrible curse. His guilt for his sins, as well as the new life growing inside his body, drives him into hiding. When the curse comes to fruition, Lev has no choice but to carve it from his body with his own hands and no help. Then, no amount of running or hiding can save him from the truths which find him at last.
Click here to buy the story or read an excerpt, reviews, content labels, discussion and more
***
DELIVER US PREQUELS:
NOW AVAILABLE!
Expected Lies
As Darrek reluctantly prepares for prom night, Kyle watches on with amusement. Darrek is frustrated with Kyle's lack of interest in bringing a girl to the prom and staying by his side, but Kyle is unphased by his best friend's increasingly strange emotional responses. Kyle has plans of his own that involve far less fancy clothing—far less clothing at all, really. Little does he know the extent of Darrek's determination to get what he wants. (M/M)
Click here to buy the story or read an excerpt, reviews, content labels, discussion and more
***
NOW AVAILABLE!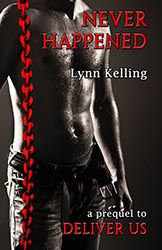 Never Happened
For Gabriel Hunter, a professional Dominant, avoiding real intimacy is paramount. Even the cautious love he has for his closest friend – fellow Dominant Ben Knox—is a potential source of further pain. Ben knows all about the shadows in Gabriel's past. Every once in a while, when the opportunity presents itself, Ben can't resist giving Gabriel a sample of what he's been missing. (M/M)
Click here for the story page with excerpt, reviews, content labels, discussion and buy links
***
WHATEVER THE COST PREQUELS:
NOW AVAILABLE!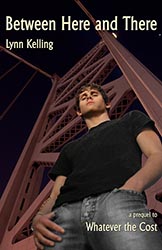 Between Here and There
Ever the tease, Avery Williams leads his lover, Timothy, on a chase that brings them to Ben Franklin bridge spanning the Delaware River. Behind them is Camden and their daily struggle to stay off the streets. Before them is the vibrant, elusive promise of the future. Trapped between, Avery lets himself be caught by the boy who owns his heart. Dreams and demons alike lie in wait as Avery gives Timothy yet another piece of himself in the hopes that it will somehow save them both. (M/M)
Click here for the story page with excerpt, reviews, content labels, discussion and links to buy
***
Travis Saxon thought he had finally escaped the man who preyed upon him since he was a young boy, until a car accident broke both his legs, and stole the mind of his beloved younger brother Dennis. Trapped in a wheelchair at his family's farm, Travis has no way to escape when his predator, a respected neighbor, seeks him out again. Blackmail and threats move Travis to cooperate, for the sake of helpless Dennis. As Travis is consumed by the horribly familiar nightmare, his knack for survival against all odds reveal to him, at long last, the way out. (M/M)
Click here for the story page with excerpt, reviews, content labels, discussion and links to buy
***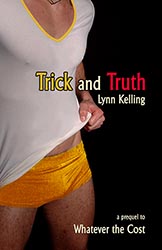 The Trick and The Truth
Avery Williams needs to be someone else. Anyone else would be an escape from the harsh reality facing him. Tonight, that someone is Jimmy, his roommate, who goes dancing at the gay clubs in the city. As Jimmy, Avery finds what he needs—sex with a stranger who pays handsomely for the privilege. But once the fantasy has ended, all that's left is the painful, unavoidable truth waiting at home. (M/M)
Click here for the story page with excerpt, reviews, content labels, discussion and links to buy
***
COMING SOON – DELIVER US PREQUELS
Divine Surrender
Genre: M/M, BDSM Romance
When Ben Knox discovers a clean-cut, blond, apparently-straight teenager named Kyle Roth in his office, looking for a professional Dominant to whom he feels comfortable submitting, instinct draws him in. Since the exceedingly particular Kyle has already passed on fellow Dominants-for-hire, Gabriel and Trace, Ben digs down beneath first impressions to expose Kyle's true motivations. Reassured by Ben's straightforward approach, Kyle demonstrates his willingness to obey and, quickly, their contract is signed. But, skillful as Kyle is at masquerading as the person the world expects him to be out of self-preservation, Ben has plenty of experience dealing with bruised souls. Though he isn't afraid of the darkness implied by Kyle's drug use, distance and deceptions, it's the intense, bashful beauty and brazen vulnerability of Kyle's submission that takes them both farther than either is prepared to go.
***
Pleasures of Paradise
Genre: M/M, BDSM Romance
To celebrate their two year anniversary, Gabriel Hunter and Darrek Grealey escape to a tropical island in the Florida Keys catering only to Masters and slaves of the BDSM community. The types of gifts Darrek and Gabriel give each other during the trip are vastly different, testing them both even as they fall deeper in love, rediscovering the pleasures brought of the power dynamic which first caused them to fall in love. As the end of their trip draws near, Gabriel plans a surprise for Darrek unlike anything he's previously faced. Darrek is forced to choose between his instinct to doubt himself and the chance to trust Gabriel in ways he's never dreamed possible.
***
COMING SOON – BOUND BY LIES PREQUEL:
Learning from the Master
Genre: M/M, BDSM Romance
Most things in life come easily to eighteen-year-old Jenner Parrish, who's on track to inherit the family business, and is popular, well-liked and good looking. He has everything he could want, except when it comes to love, and sex. Closeted, lonely and desperate, he acquires an invitation to an event at a nearby private gay club, Manse. Feeling out of his element and for the first time quite shy, Jenner is unable to play the wallflower when he captures the attention of the suave, seductive owner of Manse, David Davenport. David is used to getting what he wants, and what he wants is gorgeous young Jenner, who begins to realize every fantasy and wild desire could be his for the taking, if only he dares to ask and obediently serve.