Shared World Project with author Jack L. Pyke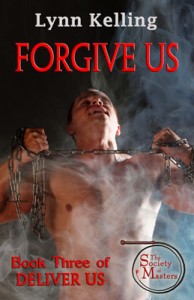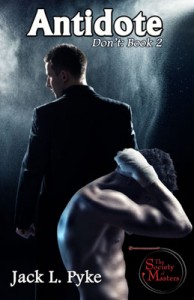 THE OFFICIAL SOCIETY OF MASTERS TIMELINE (AND CORRECT READING ORDER) *Updated 7.16.17

I'm absolutely thrilled to officially announce that I will be collaborating with the immensely talented author, Jack L. Pyke, on merging the worlds of our books. The title of this project is The Society of Masters. All books which take place in the Society of Masters world will display the mark you see on both covers above. It doesn't mean you need to have read all of the books to be able to enjoy each particular book on its own, just that the characters will be appearing in new places in the future.
Deliver Us and From Temptation will now be part of a larger universe also containing Pyke's Don't… My forthcoming novel, Forgive Us, the third in the Deliver Us series which, along with continuing the stories of Gabriel, Darrek, Kyle, Ben, Trace and Micah, will also feature the characters Jack, Jan and Gray from Jack L. Pyke's Don't…
My characters, Gabriel and Darrek, will likewise be traveling overseas to the UK in a forthcoming novel, Gray Matters, written by Jack L. Pyke to join up with the men of her Don't… series! From this point forward, elements of each of our stories will be interwoven on a single timeline, so I would heartily encourage you to read her fabulous BDSM thriller, Don't…, if you haven't already!
I am humbled and without the proper words to describe how excited I am to be working with an author whose work I respect so much. It has been such a privilege and pleasure to begin this journey with Ms. Pyke and to get to work with her characters, Jack, Jan and Gray, introducing them to my guys and seeing how spectacularly the sparks fly. I think it's safe to say that we both cannot wait to share with you all of the exciting things we have planned! Many thanks to Jack L. Pyke and many thanks to the readers!
FREE AUDIO FROM FORGIVE US AND ANTIDOTE
For more information, check out Jack L. Pyke's website. For links to buy Don't…, read an excerpt, content labels, reviews and more, click here