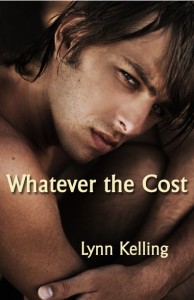 Whatever the Cost
by Lynn Kelling
Novel (120,000 words)
Genre(s): Contemporary, Romance, BDSM
Liam Taye, a man with many aliases and a complicated past, is a high-end prostitute and broken soul who shields himself in the many characters he plays for the amusement of his clients. The one thing keeping him sane is his best friend, Jacen Pruski, who works for the same corrupt organization but is at even greater risk of harm due to the nature of his clients. When Jacen and Liam are ordered to do a job that crosses lines for both of them, they have no choice but to examine how far they are truly willing to go, where their boundaries really are, and if this is the life they really want.
NOW AVAILABLE IN EBOOK FORMAT (epub, mobi & pdf)! Buy now from Fantastic Fiction! Also available from Amazon, All Romance Ebooks and Barnes and Noble.
NOW AVAILABLE!
EXCLUSIVELY THROUGH Forbidden-Fiction.com: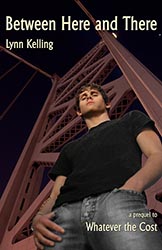 Between Here and There
Ever the tease, Avery Williams leads his lover, Timothy, on a chase that brings them to Ben Franklin bridge spanning the Delaware River. Behind them is Camden and their daily struggle to stay off the streets. Before them is the vibrant, elusive promise of the future. Trapped between, Avery lets himself be caught by the boy who owns his heart. Dreams and demons alike lie in wait as Avery gives Timothy yet another piece of himself in the hopes that it will somehow save them both. (M/M)
Click here to buy the story or read an excerpt, reviews, content labels, discussion and more
***
TO BE RELEASED JULY 30, 2013
Update 5/27/13: I've added additional present day content to this story of Jacen's youth. Since Liam has, with Jacen's help, been able to face some of his own demons brought of the trials of his past, in Escape Liam affectionately coaxes his beloved husband to share more details of his past.
Travis Saxon thought he had finally escaped the man who preyed upon him since he was a young boy, until a car accident broke both his legs, and stole the mind of his beloved younger brother Dennis. Trapped in a wheelchair at his family's farm, Travis has no way to escape when his predator, a respected neighbor, seeks him out again. Blackmail and threats move Travis to cooperate, for the sake of helpless Dennis. As Travis is consumed by the horribly familiar nightmare, his knack for survival against all odds reveal to him, at long last, the way out. (M/M)
Click here to buy the story or read an excerpt, reviews, content labels, discussion and more
***
NOW AVAILABLE!
EXCLUSIVELY THROUGH Forbidden-Fiction.com: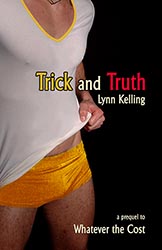 The Trick and The Truth
Avery Williams needs to be someone else. Anyone else would be an escape from the harsh reality facing him. Tonight, that someone is Jimmy, his roommate, who goes dancing at the gay clubs in the city. As Jimmy, Avery finds what he needs—sex with a stranger who pays handsomely for the privilege. But once the fantasy has ended, all that's left is the painful, unavoidable truth waiting at home. (M/M)
Click here to buy the story or read an excerpt, reviews, content labels, discussion and more