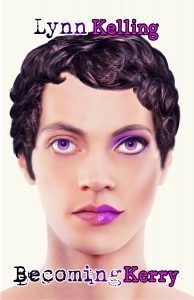 WOW! This week, 2 incredible 5-Star reviews have come out for Becoming Kerry from Gay Book Reviews. You can read the full-write up for both at the links below. I'm so very grateful for the feedback and glad to see Kerry being so well-received!
~* Ana's 5-Star Review for Becoming Kerry *~
"It was an amazing book, maybe the best I've read so far this year. It has a beautiful message of acceptance."
~* Tosha's 5-Star Review for Becoming Kerry *~
"This was a great read. I dare say an inspiring read. The things that both of these men go through is heartbreaking but at the same time they use that heartbreak to help them each create something better, more pure… I truly believe that Lynn Kelling did an excellent job on this book and others will believe the same."
Writing and editing this story has been at times such a monumental uphill-climb (for real, I lost count of the rounds of re-writes); it really makes me feel like all of the blood, sweat, and tears that went into making this book happen were well worth it to see it so appreciated. My heartfelt thanks go out to both reviewers for being open to Kerry's story and sharing their thoughts on the book!