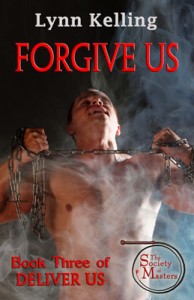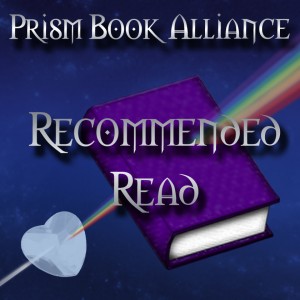 Forgive Us
(Deliver Us 3)

BUY NOW:
Fantastic Fiction, Amazon, Barnes & Noble, Smashwords, All Romance Ebooks

Update 12/22/13: Scroll down for the free audio clip of a BDSM scene between Kyle and Ben!
Summary:
To everyone else, Trace is an enigmatic and carefully controlled Dominant. He runs Diadem, a private BDSM club, is a Master and mentor to his fellow Doms and their lovers—Gabriel, Darrek, Ben, and Kyle—while trying to be Master and lover for Micah. Trace is the one to step in when anything or anyone threatens his closest friends, yet he realizes he is in over his head when haunting events of the past endanger everyone's lives. Trace is forced to call on old connections for help from the world he tried to leave behind—the Master's Circle in England. Tensions rise to a fever pitch as Trace's hidden truths shake up the lives of everyone in his tangled, tight-knit family.
For over a decade, Trace, the founder of private BDSM club Diadem, has been living under an assumed name with hardly any ties to his past as a prostitute and Master's Sub with the Master's Circle. It's a mix of chemistry, burning passion and decadent distractions which ignite the spark of hope that old wounds can heal, forgiveness might still be had, and that the future is full of tempting possibilities. (M/M+)

FREE AUDIO PREVIEW CLIP FROM FORGIVE US
This novel features the characters Gray, Jack and Jan from Jack L. Pyke's brilliant BDSM thriller Don't…
***
REVIEWS FOR FORGIVE US

***
5 Stars from Sinfully Sexy Book Reviews
"I loved Forgive Us by Lynn Kelling, book #3 in the Deliver Us series, it is without doubt my favourite so far… Trace and Micah, what more can I say, they are definitely droolworthy!!! …And Lynn has set the scene nicely for the shared world project between her and Jack L. Pyke, The Society of Masters… with three more of my favourite Characters in Jack, Gray and Jan… think I'll be running out of drool!"
— Monique, Sinfully Sexy Book Reviews
***
5 Stars from The Romance Reviews
"When writing about a taboo subject, it takes a certain kind of skill to make it enjoyable, it takes even more to turn it into an amazing story. LYNN KELLING has gone above and beyond what I expected and she has certainly acquired a new fan in me!"
— wickedwolves&dreamingdragons, The Romance Reviews
***
5 Sweet Peas from Mrs. Condit Reads Books
"Ms. Kelling has artistically crafted a novel using players from a different series, a different author, and brought them to join forces with the characters from her own, and they mesh perfectly… I highly recommend this series, along with Jack Pyke's Don't series… Not only will you have goose bumps as they delve into the world of pain and pleasure, you will also gain a new respect for the world they live in. I admire Lynn Kelling and congratulate her for her masterful storytelling."
— Tootsie, Mrs. Condit Reads Books

***
5 STARS from Prism Book Alliance
"The 2 authors have struck genius and merged their characters and worlds… It feels like it has been left open for further 'get togethers' for these characters which is exciting! …This is a complex book about broken characters who leave you feeling sometimes as though the trauma of their pasts is too big to recover from. There is literally never a dull moment…I am sitting fidgeting for the next installment."
— Caroline, Prism Book Alliance

***
Many thanks to wickedwolves&dreamingdragons & The Romance Reviews, Caroline & Prism Book Alliance, Tootsie & MrsConditReadsBooks.com, and Monique & Sinfully Sexy Book Reviews.
Links for More Information
What is a Shared World Project? Announcement Post >>
The official timeline for the Shared World Project stories >>