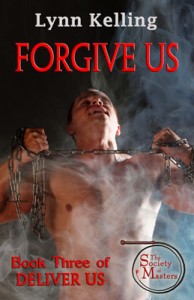 Curious about the latest installment of the Deliver Us series? Check out the exclusive audio excerpt posted today as part of the Goodreads BDSM Bedtime Stories. It's a steamy scene between Ben and Kyle, taken directly from the forthcoming novel.
Link to the Goodreads BDSM Bedtime Stories Forgive Us page >

Also check out my author interview with La Crimson Femme where I talk about being a former ballerina, my tattoo addiction, the Society of Masters project with Jack L. Pyke and much more. It can be found at Goodreads or at La Crimson Femme's blog.
General News Update ('cause there's a lot going on!): I'm currently hard at work on edits for Forgive Us which has a projected release date of March. Cursed Blessings is released tomorrow (12/19) and the first two novels of my new series – My Brother's Lover & Twin Affairs (My Brother's Lover 2) are in production now with a projected release date of late January or early February. I'm also writing the 3rd installment of the My Brother's Lover series and a BDSM Romance titled Loving the Master which is the story of David and Shea from Bound by Lies. I regularly update my Coming Soon page with all the latest details about my works in progress.
12/22/13 UPDATE:
Free preview clip below of Antidote by Jack L. Pyke, also as part of Goodreads' BDSM Bedtime Stories. Also, don't miss the character interview with Jack (and Gray) at La Crimson Femme's blog. Trace (from the Deliver Us series and Forgive Us) and Gray, play with Jack and cause a little trouble while La tries to interview him…