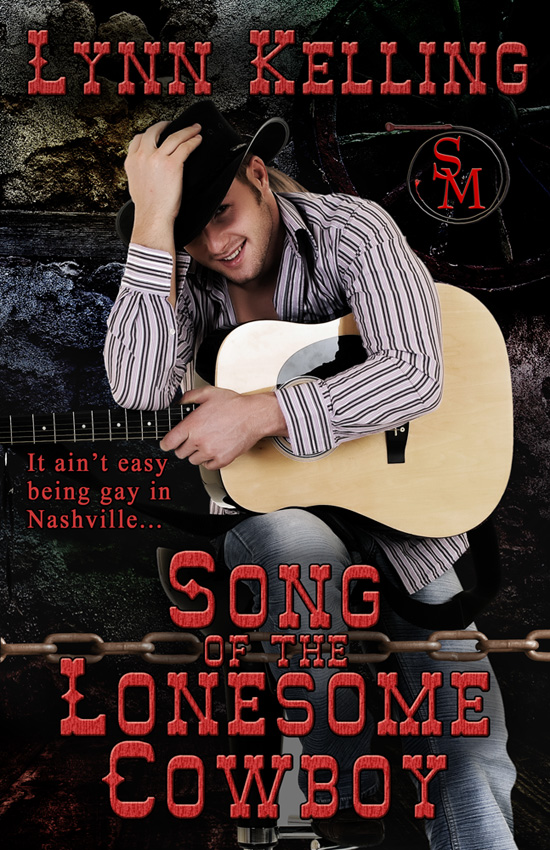 Buy now:
FFP | Amazon | ARE | Smashwords
Genre: M/M Contemporary Romance
Here's the new book trailer for Song of the Lonesome Cowboy! It was created by the talented KathyMac Reviews and I'm so thankful to her for work. It's a great teaser to get you excited for what's to come, so please take a look and enjoy 🙂
Just in case the YouTube version doesn't work for you, here's an alternative link.
Blurb: Tucker Reynolds is a humble singer/songwriter both blessed and burdened by his success in the country music industry. Stalked by a predator from his past and struggling with guilt over his secret lust for his childhood best friend and guitarist, Magnusson 'Mags' Palmer, Tucker's carefully crafted lies are his main means of self-defense, but they slowly begin to unravel. Kinky sex with prostitutes hastens a downward spiral that he searches to escape from. At the end of a successful tour, before heading home to Nashville, Tucker seeks solitude in order to come to terms with the guilt over things he has done to which he has never confessed. Only Tucker's devoted, less-assuming band mate, Jess Grayville, suspects the truth about the nightmare Tucker is privately battling. Jess attempts to protect Tucker from those who would do him harm, even when the person putting him in the most danger isn't reckless Mags, but Tucker, himself. Realizing that the best way out of the dark of his past and into the light of forgiveness is by finally admitting to the truth, Tucker strives to listen to his heart and write a song that he knows could save him. (M/M)
REVIEWS:
~* 4.5 STARS from MY FICTION NOOK *~
"Lynn Kelling does an exceptional job painting a very real picture of a downward spiral and recovery. I at once hated and loved this story. It moved me. It shattered me. I licked up every drop of sweetness and craved more. Lord knows there's never been a more hard-earned HEA. Song of the Lonesome Cowboy is as terrifying as it is beautiful. Highly recommended for those who dare." – Dani, My Fiction Nook
 ***
~* 4.5 Stars from On Top Down Under Book Reviews *~
"I can't go into a lot of detail about Song of the Lonesome Cowboy because it needs to be read. I believe the review gives any potential reader enough to know if the book is for them or not. I'll reiterate that it hits some dark and deeply perverse and twisted notes…

There's no denying the underling edgy tone of the book, but it also has some romantic moments giving me a seesawing of emotions throughout – which I certainly like – as the tension built. It does have a HEA, that I will say, but the characters concerned have to work for it. Last year this author's fabulous Arctic Absolution was my Book of the Year and I am so happy with Song of the Lonesome Cowboy as a follow-up book, it has totally cemented Lynn Kelling as a must-read author for me from here on in." – Kazza K, On Top Down Under Book Reviews
***
~* 5 Hearts from MM Good Book Reviews *~
"Lynn Kelling has accomplished once again what she is so good at. Putting words on a page that turn into a living, breathing story… I would highly recommend this to anyone who loves when the good guys win. When you are constantly beat down but rise above it all. And, most of all, when love between two men is so infectious that you want to be a part of their joy." – KathyMac, MM Good Book Reviews

***
~* 5 Acoustic Guitars from Bike Book Reviews *~
"Overall this is a wonderful book that I really hope you take a chance on, you will be very glad you did! Thank you Lynn, for giving us a read that is heartfelt, and beautifully written, I won't soon forget Song of the Lonesome Cowboy!" – Becky, Bike Book Reviews

***
~* 5 Stars from Prism Book Alliance *~
"So Lynn Kelling finally wrote something sweet and fluffy!

Yeah, I'm kidding….this is just as dark and delicious as everything else I have read from this author!" – Caroline, Prism Book Alliance

***
~* 4.75 Stars from Joyfully Jay Reviews *~
"Exceptionally well written" – Michelle, Joyfully Jay

***
~* 4.5 Stars from The Blogger Girls *~
"Every time I have needed a fluff break, needed something to sink my teeth into, something that makes me feel, and I have opened a Lynn Kelling book, I have gotten exactly what I needed and have yet to be disappointed." – JustJen, The Blogger Girls

***
Huge thanks to all of the reviewers for their feedback! The reviewers do a great job explaining the darkness of the story for more sensitive readers, so definitely check out the full reviews or the FFP story page for the content labels.
Fan-art below courtesy of KathyMac Reviews: